Emphasize Preserving Safety, Independence, and Dignity
Convincing A Loved One That Care Is Necessary
---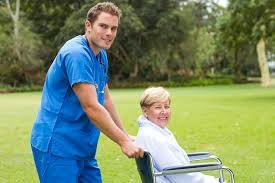 Emphasize Your Love and Desire for Preserving Happiness, Safety, Independence, and Dignity
Remind your loved one that you are concerned about their safety and well-being and that you want them to be happy. Whether choosing an in-home caregiver or a residential care facility, neither is a permanent and irreversible decision. If you or your loved one does not like the decision, you can always terminate the in-home care or move to a different location. For some individuals who are not sure about whether or not community living is the right choice, the option of respite care can allow for making a much more informed, successful decision. I would strongly encourage patients to try living at the facility for one night or even a few weeks to determine if the community is the best facility to meet their needs and desires. Prospective residents should definitely visit several times, speak with the staff members and residents, and try out the food and activities. Most residential care facilities and board and care homes will be happy to arrange an in-depth tour because they want clients to be comfortable with their decision.
Other people state that they do not like the idea of a residential care facility because they don't like being around a bunch of old people or can't stand being around people who are sick. Often, these individuals are older or more ill than most of the people at these communities. On the other hand, these sentiments are totally understandable. None of us like to be reminded about our own mortality or failing health. It is helpful to remember that many of these facilities offer outside activities and opportunities to interact with younger people. Some people might even perceive the move from their own home to a residential community as symbolizing that they are just one step closer to the end, one step closer to their own death. In reality, a move to the right community should help to prolong their life, to improve their health, to reinvigorate, and to promote social interactions and happiness.
About
DrKnows
DrKnows is dedicated to providing
FREE
assistance to individuals and families seeking any type of care service for patients of any age.
To begin your search for care services now, contact us to
Start Care
or search our care provider listings.
You can also call us toll free at 1 (844) DrKnows -
that's
1 (844) 375-6697.
A DrKnows Care Advisor can help you find the best qualified care provider for your loved one - whether you are seeking a residential care facility, a home care agency, an independent in-home care provider, or a day program.
For more information about DrKnows, including how to find the right type of care to meet your needs and expectations, please visit our
DrKnows User's Guide
. If you are a care provider who would like to partner with us, please visit our
Care Providers
page.