Baby Steps - Start With an In-Home Caregiver
Convincing A Loved One That Care Is Necessary
---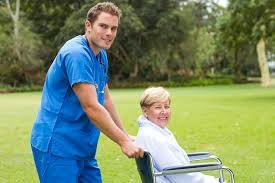 Baby Steps - Start with an In-Home Caregiver
If your loved one is not yet ready to move out of his/her home, they can begin the process by hiring an in-home caregiver. A care provider may be a terrific option for people who only need part-time care. In my experience, most people and their families underestimate the amount of care that they actually need, or they do not arrange for sufficient help because they are trying to save money. It is better to be safe than sorry! You can never have too much care, but I have seen many people suffer serious consequences by not having enough care and supervision. Some families have successfully introduced caregivers to the home by introducing the caregiver as a new friend and companion rather than presenting the caregiver as a caretaker who will supervise and diminish dignity and independence.
About
DrKnows
DrKnows is dedicated to providing
FREE
assistance to individuals and families seeking any type of care service for patients of any age.
To begin your search for care services now, contact us to
Start Care
or search our care provider listings.
You can also call us toll free at 1 (844) DrKnows -
that's
1 (844) 375-6697.
A DrKnows Care Advisor can help you find the best qualified care provider for your loved one - whether you are seeking a residential care facility, a home care agency, an independent in-home care provider, or a day program.
For more information about DrKnows, including how to find the right type of care to meet your needs and expectations, please visit our
DrKnows User's Guide
. If you are a care provider who would like to partner with us, please visit our
Care Providers
page.