Accepting and Implementing Care is a Long-Term Process
Convincing A Loved One That Care Is Necessary
---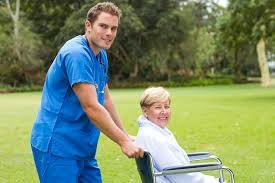 Accepting and Implementing Care is a Long-Term Process
Ultimately, accepting and implementing care is a long-term process, and it may take weeks or months of gathering information and building towards a decision that is best for your family. Through the course of researching and interviewing caregivers and residential communities, you will also gain a much better understanding of the services offered and strategies for convincing your loved one that additional support is needed. Experienced caregivers and established residential care communities can be important allies who can support you during the process of convincing your loved one that he/she needs additional care. Remember, you are not the first person to face this challenge.
The best approach is to plant the seed early on, suggesting that having a companion and friend come to the home or moving to a senior community might be fun while reducing stress. From the beginning, it is important to make the senior feel respected and in control. It is imperative that they are part of the decision making process and that they do not feel threatened, as if someone else has made the decision for them. Avoid waiting until there is a health crisis or some other emergency. If you or your loved one wants to make the best choice possible, it makes sense to plan and research. The last thing you want to do is have a health crisis, end up in the hospital, and then have to move to the only facility that still has a vacancy. Many of the more desirable residential communities may have a waiting list. Hopefully, you or your loved one has purchased long-term care insurance or is eligible for Veteran's Aid and Attendance benefits. If your loved one resists the idea of home healthcare or assisted living, enlist the support of family members, friends, medical professionals, and other trusted adults. Encourage your loved one to meet with caregivers or to tour appropriate communities so they have a realistic understanding of their options. Encourage your loved one to speak with others who have gone through the same process; a respected opinion and solid referral can make a big difference in this process. Throughout the process, try to maintain an enthusiastic, hopeful, and optimistic tone. Make sure to stress the importance of safety, dignity, respect, and independence. When visiting residential care facilities, ask questions about how they can meet your loved one's needs and expectations. Most of these facilities allow residents to bring their own furniture and personal items; some will even accommodate remodels and customization.
If you would like to learn more about in-home caregivers or residential care facilities in your community or to schedule a tour of a specific assisted living facility, contact DrKnows toll free at 1 (844) DrKnows – that's 1 (844) 375-6697.
About
DrKnows
DrKnows is dedicated to providing
FREE
assistance to individuals and families seeking any type of care service for patients of any age.
To begin your search for care services now, contact us to
Start Care
or search our care provider listings.
You can also call us toll free at 1 (844) DrKnows -
that's
1 (844) 375-6697.
A DrKnows Care Advisor can help you find the best qualified care provider for your loved one - whether you are seeking a residential care facility, a home care agency, an independent in-home care provider, or a day program.
For more information about DrKnows, including how to find the right type of care to meet your needs and expectations, please visit our
DrKnows User's Guide
. If you are a care provider who would like to partner with us, please visit our
Care Providers
page.